Remote Onboarding!!
Most companies have transitioned to remote working including remote onboarding of their employees. Those folks who have never been to the office even during their interviews to meet people in person or even get the vibes of the office culture and environment. This is a BIG fence for everyone to jump over and get acquainted to how things work within their teams.
At HackerRank our entire team has been quite nimble to put in place a pretty strong and effective onboarding at these times. I think this is the key for everyone at such times, yes being nimble and see the bigger picture.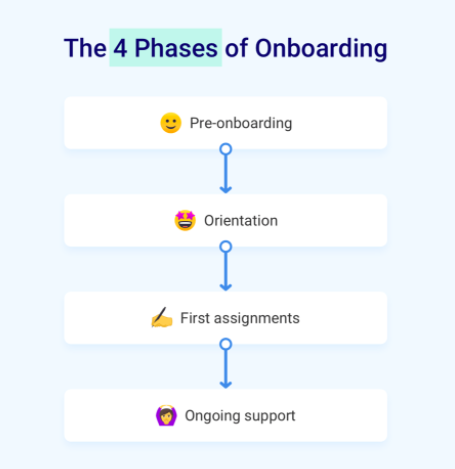 Our Pre-onboarding starts at the time when the employee (we can call them employee now as they have now signed the offers 😉 ) has signed the offer letters. The recruiter initiates a welcome email copying the leadership team and all the interviewers so that everyone can now start extending the warm welcome. Our People System now has all the details captured of the new hire and hence automated emails start going out to the new hire to capture their details like a blurb of their intro, important documents, important information for their insurance, backchannel completion, their HD pictures, asset and swag information etc. This is a great way to prep for both of us (new hire and us) for our orientation day! Once we have received all the details, our IT team ships the joining kit including the swags & machines and assets.
Orientation here begins with a detailed zoom call with our people team where the new hire is walked through a detailed deck on our company (why and how did we start, our mission, various teams and how do they communicate and benefits and life at our company including essential information on who should they reach out to when stuck). This is followed by our IT team who helps them get all the essential access to various tools and our facilities team who help them with setting up their benefits in place like insurance, provident fund, salaried accounts, id cards etc. Post this the new hire meets the reporting manager and also the entire team. Of course, this ice breaking experience is a must.
Towards the end of the day, the people team again catches up with the new hire to walk them through a detailed onboarding plan which includes details of their 30-day, 60-day and 90-day plan! We also use slack, confluence and zoom actively for their first day. We share an intro blurb to celebrate their welcome on our company channel.
Overwhelming yes, but great information which enables our new hire from day 1. We have received some great feedback around this.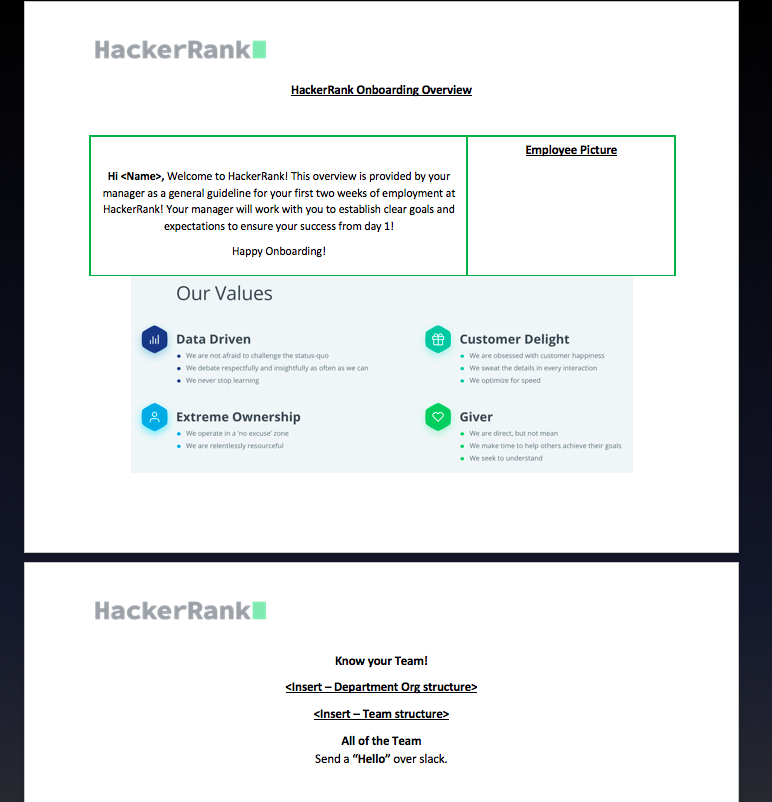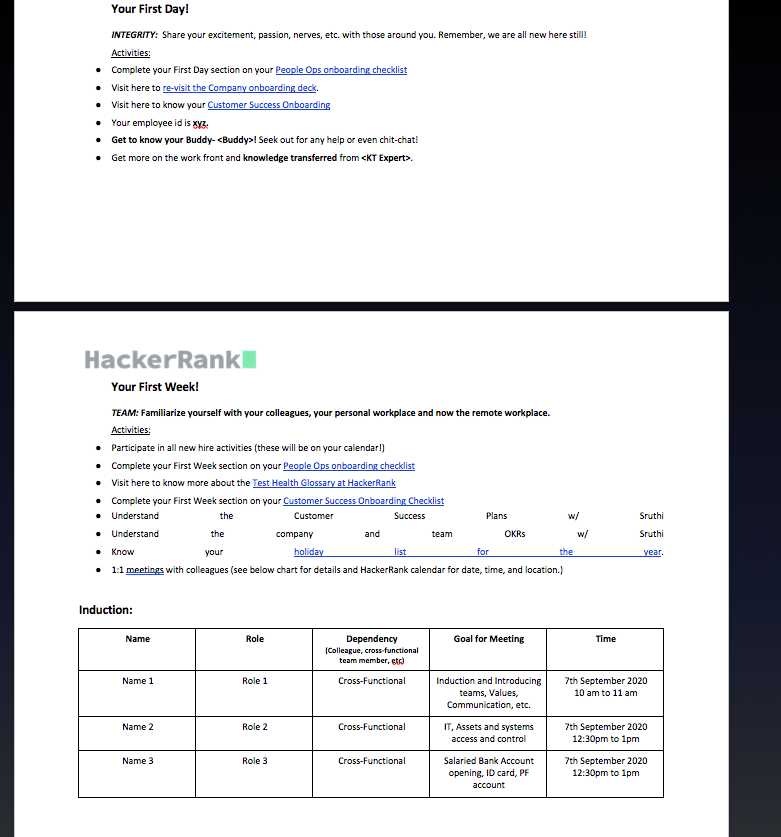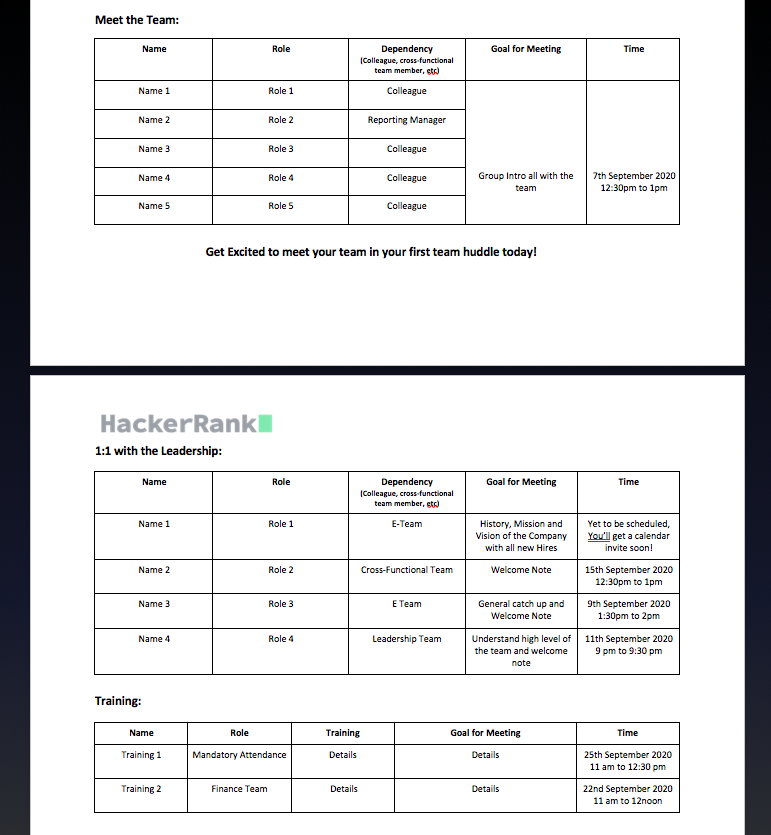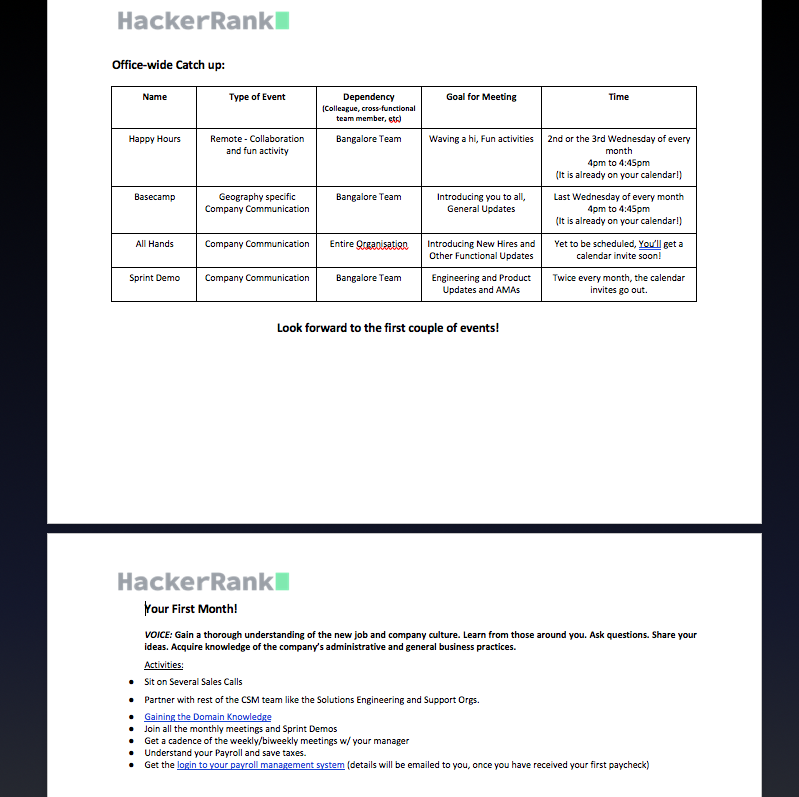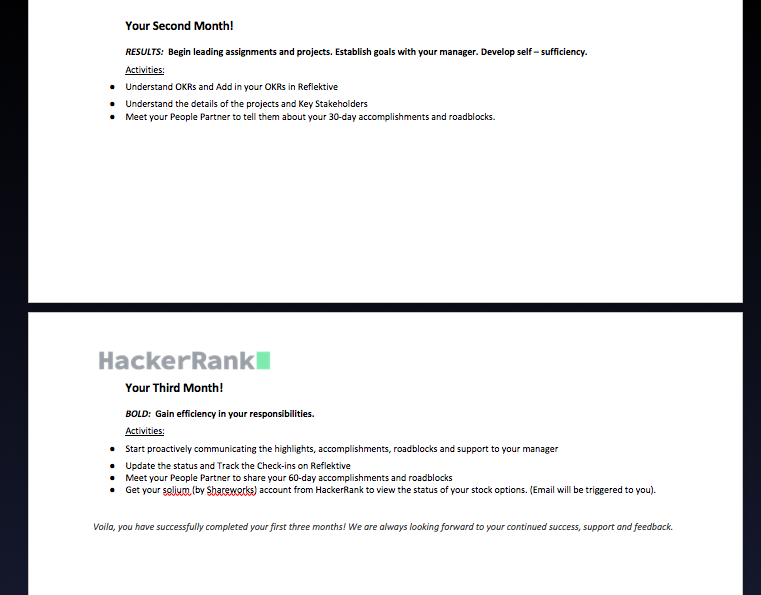 First Assignments are very important for all the new hires as its often hard for them to hit the ground running and hence these are the reality checks for both the manager and them.
We have been able to create multiple checklists to help them here. Checklists are broken down to departments like People Team checklists, Finance team, IT, their own team. These department checklists are further broken down in a timeline like a week 1, week 2 etc. till their Month 3 where now they have become self-sufficient to voice their problems, issues and share the candid feedback and solve them by themselves 🙂
Ongoing support is the way to continue the interaction with the new hire and also continue evaluating the current process. Like I earlier mentioned being nimble is the key, our ongoing support is the one to ensure whenever we need to cease the process or re-consider a change. Ours is a very open culture and from day 1 the new hire is enabled to share candid feedback. We also run a buddy program where every new hire has a close contact even during these remote times always to speak to and help them get unblocked. Buddies can be even from different teams. Each new hire also has a KT expert to enable a functioning mentorship program. Generally, the KT experts are the direct managers. We know that remote onboarding also refrains socializing unlike at office. Hence, we also ensure cross-department, cross geography collaborations and make it a part of their 30-60-90-day onboarding plan. People team constantly keeps a check at the end of each month until their first 3 months are fully completed and also meets the manager or concerned teams to help and enable them fully. We celebrate and welcome all the new hires through our (multiple) happy hours sessions and company-wide communication events and channels. We capture the feedback at the end of their 30 and 60 days on their overall onboarding experience.
Check on what some of the other companies are doing in their onboarding: Trello, Gitlab, Helpscout, Hubspot.
We are in a constant mode of reiterating and testing new ways of making the Onboarding experience a fruitful one for all our new hires. If you have some great suggestions, feel free to share or comment below!