Aloo Dum with a tweak!
This lockdown has revived our dead hobbies and passion or even helped figure out new ones.
I love to de-stress myself in a couple of ways like painting, cooking, going for a walk with Mac, meet friends or watch some Korean/thriller/murder mystery series, etc.
This weekend I took to cooking.
One of the recipes that I tried with a new punch was a Bengali Dum Aloo (A famous Indian potato curry).

3 years back I was very new to the kitchen and struggled and googled everything before trying. In the last couple of months, I have developed an uncompromised love towards cooking, now so much that I try newer things very often and also give my own variation sometimes.
I read a couple of food blogs before trying this and added a newer version which I didn't find anywhere else, so I can call it my own recipe 😉 Haha! I had a gathering at my home this weekend and some of the friends were vegetarian. As it is, finding a vegetarian recipe is very difficult. But this one is easy and everyone loved the new recipe.


Aloo Dum – New recipe :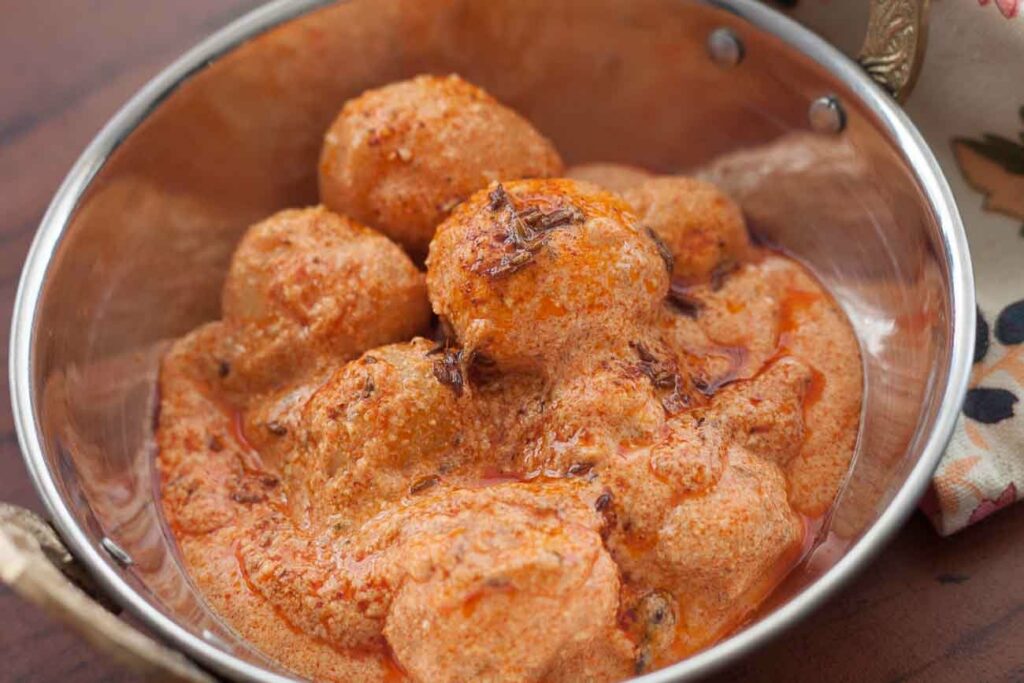 Time to cook: 1 hour
Prep Time: 15 mins
Cook Time: 45 mins

Things Needed: Everything is always readily available at the kitchen usually.
Potato: 10-12 (I made for 6 people but this can serve up to 10-12 people too. Depends on the appetite).
Onion: 1 medium size
Tomato: 1 Large size
Curd: 2 tablespoons
Milk: 3 small cups

Spices and Condiments :
Ginger: 1 inch
Garlic: 8-10 cloves (I love the flavor and hence add a little more but you can also add a lesser number of cloves)
Tej Pata (Bay leaf) : 1
Kashmiri Red chili powder: 2 teaspoons (I love the color it adds and hence add little more plus it isn't spicy at all)
Green chilies: 2 (I cannot eat spicy food and hence keep this low)
Turmeric: 1 teaspoon
Garam masala: 1 teaspoon (I have made my own garam masala at home with the whole cinnamon, cardamom, star anise, peppercorn, clove just by grinding them together).
Jeera (Cumin Seeds): 1 teaspoon

Preparation:
1. Wash the potatoes and peel them. Pressure cook them under 1 whistle. (This step cooks the potatoes really well.)
2. After they are steam cooked, cut them to cubes – small pieces and fry them in a wok. Add a little salt to them. (I have discovered, doing this step adds in a good flavor to the potatoes as they don't have their own taste.) Once they are golden brown, remove the potatoes and soak out the excess oil on a tissue paper.
3. While the potatoes are frying, take the curd in a large mug and add the salt, Kashmiri chilly powder, turmeric, garam masala and keep stirring them. Keep it aside.
4. At the same time, make a fine paste out of the ginger, garlic, tomato, onion and green chilies and keep it aside.
5. After the potatoes are fried, remove the excess oil from the wok and keep it aside for later use (I generally use minimal oil to cook and add in water to the curry to keep the gravy oil-free. I only used 2 spoons of oil for the rest of the preparation.)
6. In the same wok with the remaining 2 spoons of oil add the bay leaf and the cumin seeds. (Enjoy the cluttering sound of the spices).
7. To this add the puree of the onion, tomato, green chilies, ginger, and garlic. Let this stay for 3 mins and then add the curd-masala paste. Leave it on the wok for another 5 mins.
8. The next step is the key to the richness and my own discovery. Add the milk to this. You 'll see the color change and keep stirring the curry for 5-6 mins till it has become thick. Taste the salt and add more if needed. (If salt is more- we can add in one more- only tomato puree and a little bit of curd to adjust the salt here).
9. Once you see the richness in the gravy add the fried potato cubes and cover it with a lid. Leave it for again 5 mins. Keep checking if it's not too dry. Add water if needed (No more milk).
10. Add a little cube of butter and turn the stove off. Serve them hot. It goes best with puris or parathas.